Shows
Aug.13.17
Whitecaps
11 Main St W
Grand Bend, ON
6:30pm - 10:30pm

Aug.6.17
Whitecaps
11 Main St W
Grand Bend, ON
6:30pm - 10:30pm

Aug.5.17
GT's - Beach Bar, Port Stanley
350 Edith Cavell Blvd
Port Stanley, ON
2pm - 6pm

Jul.9.17
Whitecaps
11 Main St W
Grand Bend, ON
6:30pm - 10:30pm

Jul.8.17
The Poacher's Arms
171 Queens Ave
London, ON
10pm - 2am

Jul.2.17
Whitecaps
11 Main St W
Grand Bend, ON
6:30pm - 10:30pm



Some past events/venues played include:
London Ribfrest, Windsor Ribfest, GT's, Port Stanley, Pierside Pub, Poacher's Arms, McCabe's Irish Pub, Talbot St. Whiskey House, Whitecaps, Grand Bend... and more! For a detailed list of previously played shows, please inquire.

Contact / Bookings
Email J.R. for bookings and general inquiries at »
info@solemotive.ca
Discography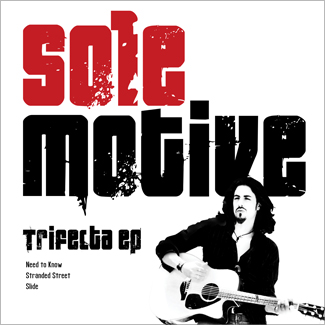 » Download the New Trifecta EP on iTunes
» Download the New Trifecta EP on Cd Baby
About
SOLE MOTIVE is an 'Acoustic Roots Rock' music project by singer-songwriter J.R.
Performing as a solo act, the Sole Motive acoustic show is melodic and percussive, making feet tap, heads bounce and bodies move.
Sole Motive's engaging live set list consists of recognizable covers with an appealing twist as well as original material like the three new songs on the 'Trifecta EP'. » Download it on iTunes!